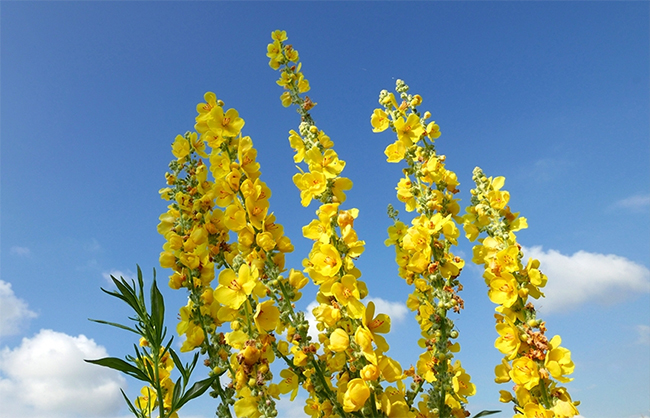 Mullein Leaf & Seasonal Allergies (Hay Fever)
Mullein leaf is a gentle yet powerful herb, traditionally used by cultures across the world as a healing aid for respiratory conditions, including seasonal allergies and hay fever. The mullein plant is particularly revered for its soothing nature.

Mullein leaves are a source of vitamin C and minerals. They are found to contain an array of natural active compounds, namely: flavonoids, saponins, tannins and glycosides. Research indicates that rutin, hesperidin and other flavonoids have antioxidant and natural anti-inflammatory properties.

Mullein also contains around 3% of mucilage which is thought to be responsible for its soothing and restorative actions, especially on the mucus membranes and sensitive tissues within the throat and respiratory system. Traditional herbalists describe its actions as demulcent, in that they have the capacity to soothe and protect irritated or inflamed tissues.

Nature's Answer brings you Mullein Leaf, a botanical that has stood the test of time, in their unique alcohol-free and gluten-free, concentrated, dried herbal extract, so you can experience the benefits that have been enjoyed by others for hundreds of years.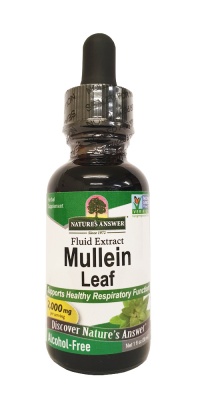 Each 2ml serving provides 600 mg of sustainably sourced, dried leaf extract of Mullein (Verbascum Thapsus). Being in a liquid form, it provides fast and efficient absorption.

Bio-Chelation® is a proprietary herb-friendly, cold-extraction technique that was exclusively developed by Nature's Answer. This enables all the raw plant parts to be extracted intact, without the use of harsh solvents or heat commonly used by other brands. All the natural plant constituents can be maintained, thus enabling the herb to keep its Holistic Balance® intact.

Nature's Answer is family owned and operated and has a proud tradition of providing the highest quality and purity ingredients in every product since 1972.
(the claims are based on clinical research, are not aimed to diagnose, treat, cure or prevent any disease. Food supplements should be used within the framework of a healthy lifestyle and not used as substitutes of a varied and balanced diet.)