Don't be fooled by imitation Manuka Honey

Laboratory testing has been undertaken on batches of honey sold as mānuka, originating from seven countries outside of New Zealand, to verify their authenticity.

The Unique Manuka Factor Honey Association (UMFHA)of New Zealand used a certified independent lab and applied a strict framework of identifying markers to test 41 brands of non-New Zealand sourced mānuka.

The honeys were labelled as mānuka and sold as such by major online retailers, but the tests found that 100% of the honey samples 'failed to meet the New Zealand Government mānuka honey identification test', leading the UMFHA to declare that all 41 brands are supplying 'non-authentic' mānuka.

They concluded that these brands "are misleading consumers, distributors and retailers alike, passing their product off as authentic. Consumers are buying these imitation honeys under the impression they have the same potential health benefits as genuine New Zealand mānuka honey."

Tests carried out by the independent lab on behalf of the UMFHA proved that none of the honey samples were produced from nectar sourced from New Zealand's native Leptospermum scoparium or mānuka tree.

The full story can be found here

Each mānuka honey product that carries the UMF™ trademark must pass the stringent Unique Mānuka Factor Honey Association (UMFHA) quality, grading and rating tests that are designed to validate potency, authenticity, purity, shelf life and freshness.

If you can't see this trademark on the label it is probably not genuine NZ origin mānuka honey.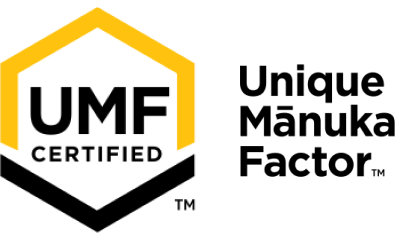 To see our range of UMF certified Manuka Honey click here