Nearly a century after the launch of its iconic Skin Food Original, Weleda is introducing a new Skin Food Face range. Since 1926, Skin Food has become a firm favourite with makeup artists, celebrities and beauty experts alike. Now a viral TikTok sensation appearing in over 99 million searches, Skin Food is a beauty staple with one tube selling every 10 seconds.
The original Skin Food has multiple uses, with many fans using it on both face and body, but Skin Food Face is the first range in the Skin Food line up dedicated solely to facial skincare. Designed to support dry skin, or as a nourishing boost to skin going through a dry phase, the new collection has performed exceptionally well in consumer and clinical testing.
Plant powered and certified natural, the new facial care products harness the power of Skin Food's key ingredients - rosemary, viola tricolor, calendula, chamomile - with the addition of active botanicals including antioxidant-rich centella asiatica extract, sacha inchi oil, and olive squalane to nourish and replenish.
The collection comprises three hard-working vegan products:
Skin Food Cleansing Balm, Day Cream and Night Cream.
Skin Food Nourishing Cleansing Balm - vegan £12.95 75ml (Click Here)
This refreshing cleansing balm is delicately fragranced with natural essential oils including the light freshness of sweet orange balanced by warm balsamic notes of benzoin. The smallest amount of this oil-to-milk formulation is applied to the skin, and with a little warm water and light massage the cleanser is instantly emulsified into an effective cleansing milk that can be rinsed off easily. Unlike cleansers which strip the skin of oil, threatening its natural barrier function and balanced microbiome, the new Skin Food Nourishing Cleansing Balm is proven microbiome-friendly and conditions while it cleanses, leaving skin feeling soft and replenished. Clinical tests revealed:
100% agree it effectively removes dirt, grime and makeup
79% agree skin feels replenished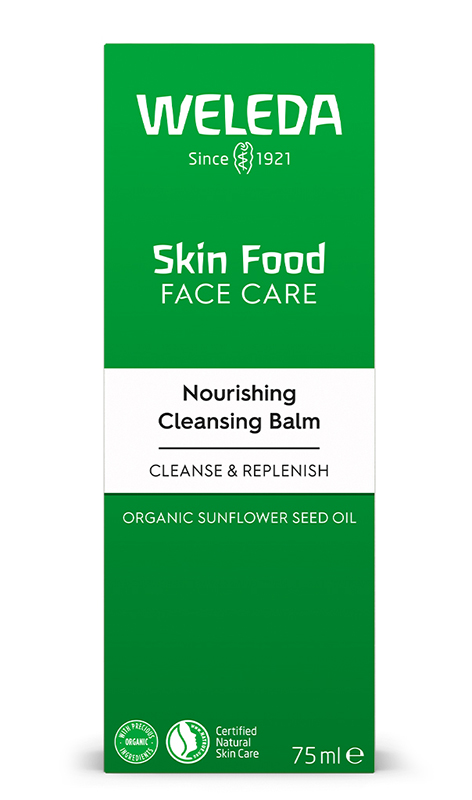 Skin Food Nourishing Day Cream - vegan £14.95 40ml (Click Here)
This protective day cream is formulated to intensively nourish dry skin, hydrate and restore radiance. Refreshing sweet orange is predominant in the fragrant essential oil mix, to start the day on an upbeat note. A time-honoured combination of pure plant oils and extracts including biodynamic calendula from Weleda's own medicinal herb gardens, together with chamomile, rosemary, sunflower seed oil and shea butter, are all sourced from long-term organic farming partners. These are complimented by organic olive leaf extract, included for its protective antioxidant effect and skin-soothing properties, together with olive squalane which contributes natural skin-conditioning, emollient properties, to maintain a healthy skin barrier and protect against the drying effects of weather and central heating. This silky skin saviour glides on beautifully, instantly hydrating and absorbing easily whilst delivering long-lasting moisturisation. Clinical tests revealed:
83% agree skin feels intensively nourished
+72% immediate improvement in skin moisture
+29% skin moisture levels after 12h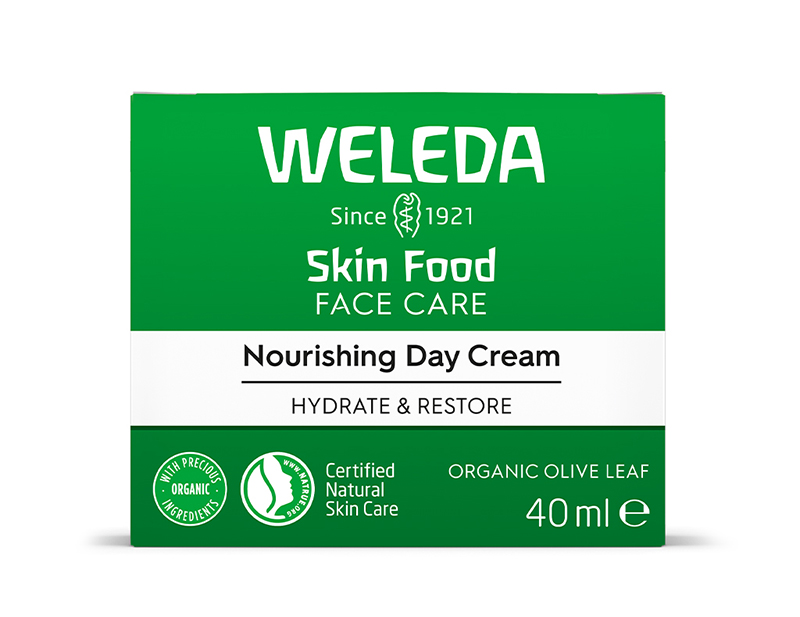 Skin Food Night Cream - vegan £14.95 40ml
(Click Here)
This nourishing night cream is made with key ingredients synonymous with the original including skin-healing calendula and skin-smoothing viola tricolor, together with precious organic cold-pressed sacha inchi oil rich in alpha linoleic acid prized for its cell-regenerating properties, whilst the skin-caring polyunsaturated fatty acids reduce transepidermal moisture loss and help maintain elasticity. Organic shea butter gets to work during the skin's nightly repair phase to strengthen the skin's natural barrier function. Together with centella asiatica extract, selected for its ability to stimulate collagen synthesis and encourage the skin to regenerate and recover, so you wake to a radiant, silky-soft complexion. Relaxing lavender essential oil at the heart of the fragrance blend provides the perfect bedtime scent. Clinical tests revealed:
83% agree skin feels intensively nourished
+81% immediate intensive moisturisation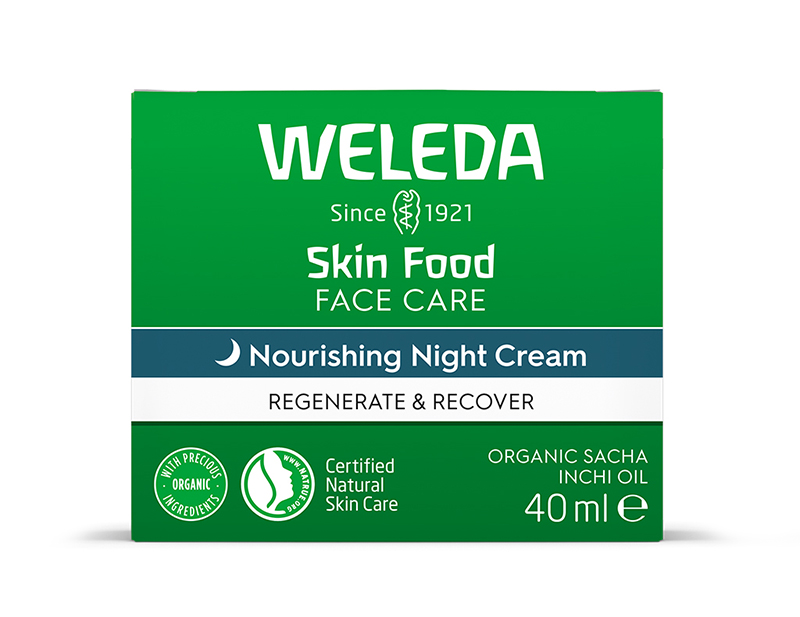 Skin Food Ultra-Light Dry Oil - £15.95 100ml (Click Here)
Hot on the heels of the new facial care launches and just in time for the summer, is the new Skin Food Ultra-Light Dry Oil, a fast-absorbing and lightweight multi-purpose oil. Formulated to naturally moisturise, intensively nourish and instantly hydrate, with weightless care and a beautiful glow.
Simply shake, spray and glow: the Ultra-Light Dry Oil is a dynamic oil-in-water formulation which needs a quick shake to mix the ingredients before spritzing the fine mist onto skin and effortlessly smoothing in. Naturally fragranced with pure essential oils, the spray leaves a satin sheen and the Skin Food signature scent of refreshing rosemary, aromatic lavender, vibrant sweet orange and balsamic benzoin.
Ideal for normal to dry skin, this is the perfect way to give skin some intensive Skin Food TLC in a hurry. The dry-touch, sheer texture absorbs instantly without leaving a greasy film. It can be used anywhere on the body or face, and delivers a luxuriously indulgent softness to skin, instantly reducing dryness or tightness.
The product was dermatologically tested for effectiveness and skin compatibility, with studies confirming:
91% agree absorbs instantly
+78% immediate moisture
73% agree provides intensive nourishment
97% agree instantly softer skin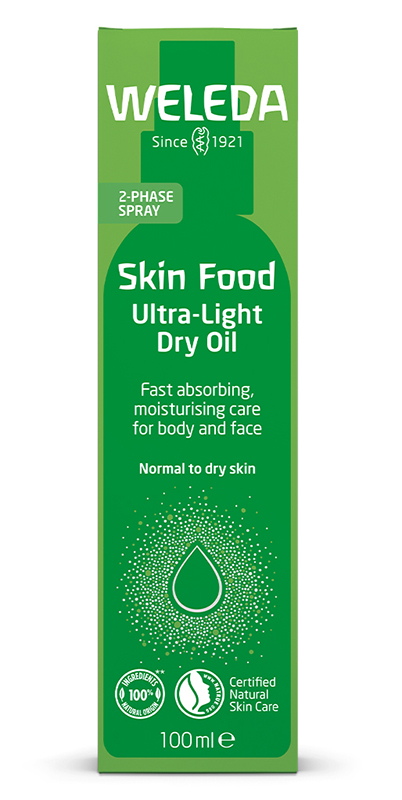 The makeup artist multi-tasker
We recently road tested the Skin Food Ultra-Light Dry Oil backstage at the Eudon Choi A/W '23 show at London Fashion Week with glowing results. Makeup artist Adam de Cruz and his team used this versatile multi-tasking hero to restore radiance, adding gleaming highlights to shoulders and shins. The makeup team and the models loved the results and found that its speedy, dry-touch was super helpful backstage when time is limited, yet skin finish really matters.
Sustainable inside and out
The Skin Food Face collection is packaged sustainably with easy-to-recycle elements that can all go out for kerbside collection. The two creams come in infinitely-recyclable green glass jars which are made from recycled glass. The outer cartons are from FSC certified board made with at least 82% recycled fibres, and lids are made from widely recyclable PP plastic. The cleansing balm comes in a tube made from 100% recycled aluminium plus an HDPE plastic cap, and can go out with household recycling. Printing on the inner sides of the cartons replaces previous in-pack leaflets, to communicate Weleda's sustainability credentials.
The Ultra-Light Dry Oil comes in a recyclable rPET pump-action spray bottle made from 98% recycled plastic, packaged in an outer carton of FSC certified board made with at least 80% recycled fibres.
All products are NATRUE-certified natural and made without mineral oils or silicones, artificial additives, microplastics, GMOs or animal testing, and their renewable, biodegradable ingredients are as gentle on the planet as they are on skin. Their ethically-sourced ingredients are UEBT-certified sustainable.